Hightlight
Car parking

Credit cards

Non smoking

Reservations
Namanya memang sudah lama dikenali ramai. Ini kerana Sate Kajang Haji Samuri sudah menjalankan perniagaan selama 25 tahun lamanya. Malah, mereka berjaya memiliki 20 cawangan dan mengeluarkan produk sejuk beku mereka sendiri.
Sate Kajang Haji Samuri menyediakan 7 jenis pilihan sate iaitu sate ayam, daging, perut, hati dan pedal, ikan, kambing, dan arnab. Selain itu, mereka turut menyediakan hidangan lain seperti aneka nasi goreng dan mi.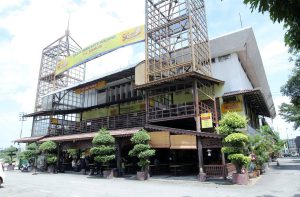 Opening Hours
Monday:
10:00 AM - 11:00 PM
Tuesday:
10:00 AM - 11:00 PM
Wednesday:
10:00 AM - 11:00 PM
Thursday:
10:00 AM - 11:00 PM
Friday:
10:00 AM - 11:00 PM
Saturday:
10:00 AM - 11:00 PM

Closed
Sunday:
10:00 AM - 11:00 PM
FAQ's
What it is like to have your first date in this place?
If you pickup you would need to bring your food home or take it somewhere else to eat it.
How is this business handling reopening?
Patio dining with many heat lamps and staff all had mask on and clean none stop.
How is this business operating during COVID-19?
They are offering pick up/ take out and delivery within a certain radius. So make sure you call first.